The most important element of your new home is your builder.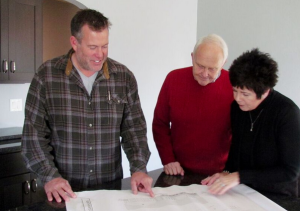 Whether it's high quality craftsmanship or his personal commitment to giving you the best home building experience you could imagine, Rory Schlomann delivers. He and his team of highly skilled professional tradespeople will build you a home you will be proud to live in.
Rory Schlomann delivers the highest quality and craftmanship in the Fox Valley, and the personal commitment to giving you the best homebuilding experience with his team of skilled, professional tradespeople.
Rory began in the construction business nearly a quarter century ago, as a skilled specialist in concrete flatwork, siding installation, finish carpentry and framing carpentry in addition to construction management and general contracting. He has experience!
Today he is owner of Rory Schlomann Construction, involved in many of the "hands on" actual activities involved with physically constructing homes. That way he gets a first hand look at every aspect of building that goes on which aids greatly in quality control.
Rory prides himself in a job well done and every detail is attended to personally. He stays in constant contact with new homeowners at every level of construction, including post construction if needed. Rory also makes himself available to customers to answer questions and help with product selections and advice. His clients consider the building experience as rewarding and sometimes fun. His level of experience, talent and competence is apparent in the high quality of construction evident in the Westbrook Villas homes.
Contact Rory to learn more:
                             920-428-2755 (Cell)